DEXs are at the core of the decentralized finance ecosystem, allowing the market to attract and move liquidity, exchange assets within blockchains, and use trading strategies to earn. Decentralized exchanges allow market players to work with crypto anonymously and without any restrictions.
Tezos, as a platform for the development and expansion of dApps, has already been represented by several DEX protocols. DEXs allow projects to gain instant access to new liquidity, thereby increasing their market capitalization. As of October 2021, over $60 million is locked in Tezos DEX pools.
In this article, we analyze most of the well-known Tezos-built DEXs, noting their unique features, useful tools, fees, and additional ways to earn money.
QUIPUSWAP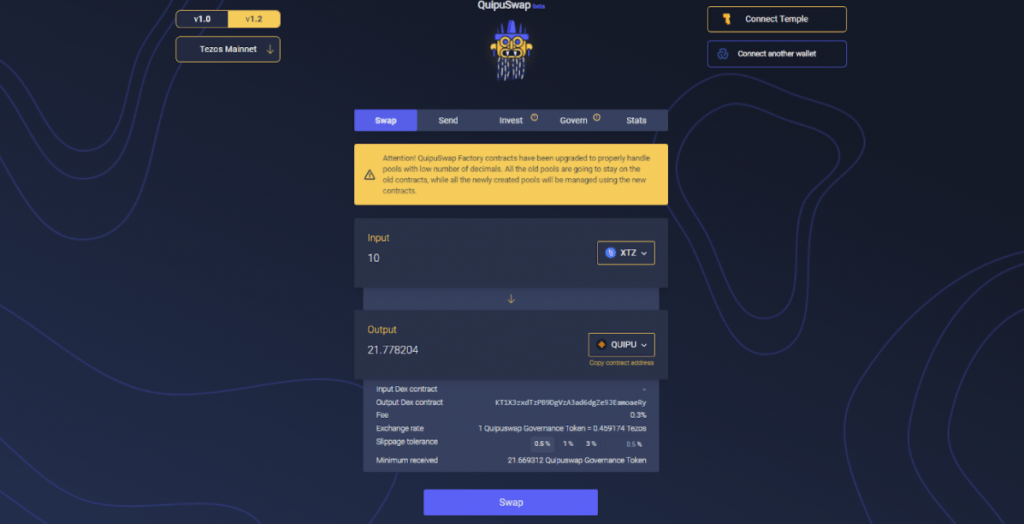 General
QuipuSwap (more than $20M TVL) is the Tezos DEX developed by the MadFish team. QuipuSwap's launch in 2020 changed the balance of power in the Tezos ecosystem because it was the first DEX to support FA1.2 and FA2 tokens. QuipuSwap became the main cryptocurrency exchange for Tezos tokens and remains so to this day.
This DEX is built on open-source code that is free to use by third-party developers. All contracts were audited by Least Authority.
DEX
This DEX supports token-to-tez swaps and also contains pools for over 300 Tezos-based coins. Any user can add a new token and create a new pool on QuipuSwap. Currently, only the team has the right to add tokens to the Whitelist, but users can access any added token using a contract address or direct link.
QuipuSwap has not yet launched token-to-token swaps, which can be done through routers. The version of the protocol that supports token-to-token swaps is currently under audit.
The TEZ staked in the DEX pools is delegated to backers so that providers can earn baking rewards in addition to transaction fees and LP-tokens. Users can elect delegates by voting with their staked shares in the selected pool.
Trading fees are 0.3%, and there are no additional fees for adding and withdrawing tokens from the pools. LP-tokens received in exchange for providing liquidity on QuipuSwap can be used in a variety of liquidity mining programs based on third-party protocols in the Tezos ecosystem.
Tokenomics
QuipuSwap recently released its own QUIPU token with a total supply of 10,000,000 tokens. The first token distribution was conducted via an airdrop to QuipuSwap users. Further QUIPU may be obtained via farming or through purchase on a DEX. Users can trade QUIPU tokens in this pool.
QUIPU should become the core of the protocol's governance mechanism and act as a means of payment for future QuipuSwap services.
In the near future, the QuipuSwap interface will be updated and farming programs added. QuipuSwap is the first Tezos-built DEX on the CoinGecko listing.
PLENTY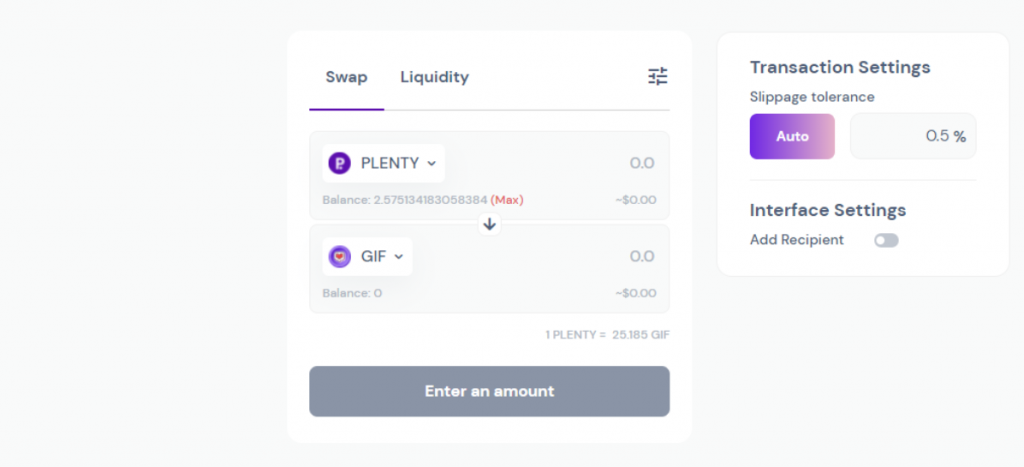 General
Plenty DeFi (more than $30M TVL) — a young DeFi protocol in the Tezos ecosystem that quickly gained popularity. Plenty's journey began with the launch of various yield farming programs, which helped it gain a significant audience. Plenty then launched their own DEX protocol to trade Tezos-based tokens.
The Plenty swap smart contracts were developed by Tezsure&DGH and successfully audited by Apriorit but use a proprietary (closed source) code. The developers promise to make Plenty open-source and governed by a DAO in the future.
DEX
About two dozen coins are available for swaps, but trading via the Plenty AMM protocol does not support routing. Swaps are only available when paired with the PLENTY token. Users cannot add new tokens to the DEX and create new pools.
The protocol also doesn't support TEZ, using its synthetic collateralized version, cTEZ, instead (cTEZ can be used in smart contracts without the question of "who's baking?"). Consequently, Plenty doesn't offer users the opportunity to earn on a delegation to backers.
The trading fee is set at 0.35%. 0.25% is added to the liquidity pools as rewards for the liquidity providers, while the other 0.1% is used as rewards for the next iteration of PLENTY staking. The unstake fee is equal to 4% if a user withdraws their assets from the pool within 9 days. 75% of the unstake fee is used to buy back PLENTY and burn it.
Tokenomics
The protocol has its own PLENTY token, with a maximum emission limit of 62,000,000 tokens. You can get PLENTY in a variety of ways, from buying it on Plenty or Quipuswap to participating in liquidity farming programs.
This platform contains many farming programs, allowing users to earn PLENTY and other tokens by staking LP tokens in a farm and staking PLENTY to receive xPLENTY. xPLENTY is a token similar to any LP-token that you receive in exchange for staking PLENTY. The xPLENTY token is always worth more than the PLENTY token because xPLENTY accrues value from platform fees and PLENTY staking rewards (it will also be used for governance in the future).
SMARTLINK VORTEX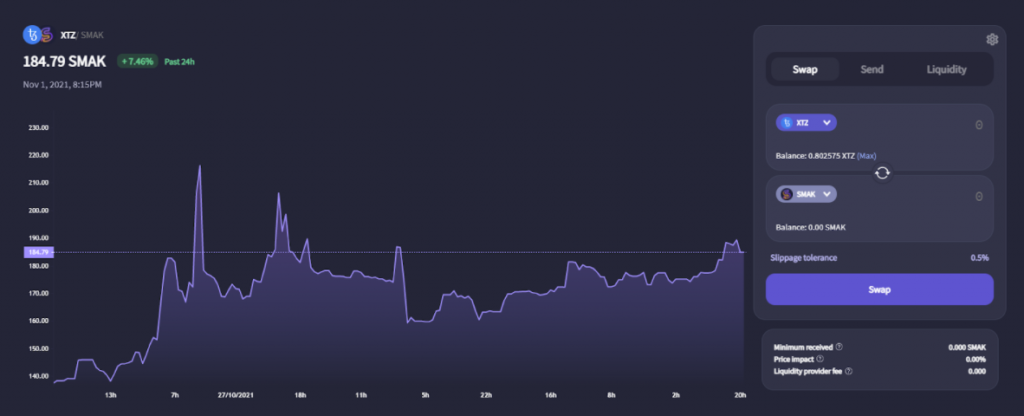 General
Vortex (more than $0.4M TVL) is an open-source automated market maker liquidity protocol within the yield farming platform "Smartlink", where users can participate in various DeFi programs, delegate their tez, and earn tokens. The contracts from the Pyratz Labs developers were audited by the SmartChain team.
The project is currently managed by a hybrid governance model (Council and Committees).
DEX
Vortex supports all types of Tezos tokens, including FA1.2 and FA2. Anyone may list a token by creating a new liquidity pool and adding liquidity to an existing pair. This DEX currently supports token-to-tez swaps and plans to launch token-to-token swaps before the end of 2021.
Developers are planning to launch liquidity mining in early Q4. Users will be able to deposit their LP-tokens in different farms and redeem rewards.
Vortex has a "Send" feature that allows you to send a token after a swap to any specified address.
Tokenomics
The platform has its own SMAK token with a supply of 896,083,333 tokens, which allows users to participate in various farming programs.
The fee structure for Vortex includes a 0.28% swap fee, which is split across liquidity providers (0.25%), a buyback and burn program (0.02%), and the Smartlink Treasury (0.1%).
SMAK tokens are available on Plenty, QuipuSwap, and Vortex.
ALIENS DEX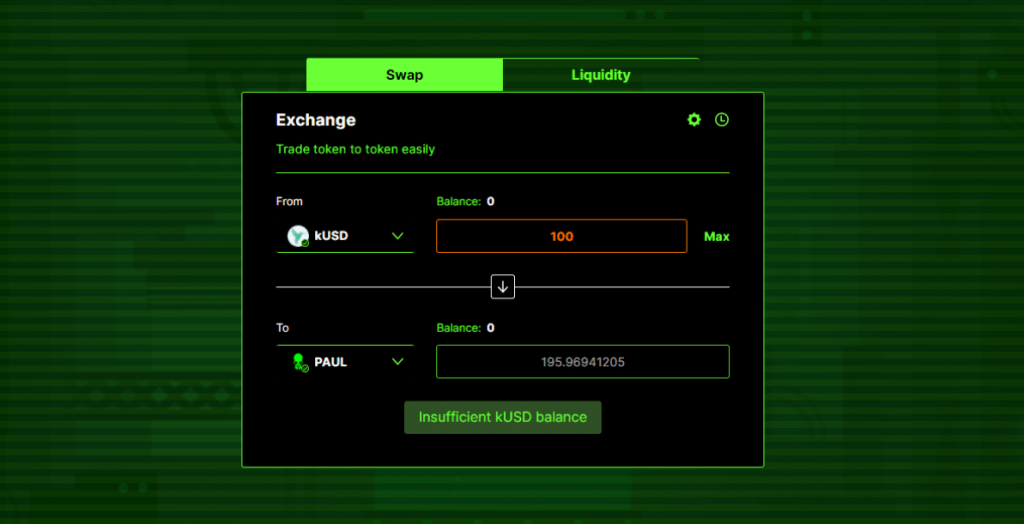 General
Aliens (more than $38,000 TVL) is the newest DEX in the Tezos ecosystem. Alien DEX was built by DegenTech, the creators of the Magic Button. Alien's DEX is an open-source project created using the QuipuSwap fork.
Third-party developers can use Alien DEX's AMM open-source code on other platforms and earn a Dev Referral fee of 0.05%.
DEX
Aliens' AMM protocol only supports token-to-token swaps. Using Aliens, you can exchange different FA1.2-FA2 tokens, but not XTZ. Anyone can add new tokens and pairs without limitation. The team is adding tokens to the whitelist, and are planning to transfer these into the hands of the community. Currently, 27 tokens and almost 40 pools are available.
All trades involving XTZ are possible using wrapped tez (cTEZ, WTZ). You can use WTZ or cTEZ, which are derivatives of TEZ, for this purpose. WTZ is the wrapped XTZ token that allows you to trade XTZ values on a token-to-token DEX. You can get WTZ on the Crunchy network.
Trading fees on the Alien DEX are 0.45% per trade. These fees are distributed as follows:
0.25% to LP token holders;
0.05% Degen Dev fund;
0.05% PAUL buyback and burn;
0.05% to Stake pool;
0.05% Dev Referral fee;
Users who provide liquidity to the AMM protocol can participate in various farming programs and stake PAUL tokens and their LP-tokens on smart contracts to receive rewards.

Tokenomics
Alien's Farm has its own PAUL token and uses the same tokenomics as Pancakeswap. PAUL has an infinite supply, burning mechanics, and a deflationary model. This DEX charges a 10% withdrawal fee when a user withdraws PAULs from the mining pool less than 36 hours from the staking time (buying PAULs on the market for further burning). A 0.05% PAUL buyback commission fee is charged for each swap on the Aliens DEX.
The team's goal is to create a negative PAUL supply curve.
In mining pools, users may stake PAULs and earn double rewards in other tokens. PAUL tokens are also required to participate in farming programs.
You can buy PAUL tokens on QuipuSwap, Aliens DEX, or receive them as a reward for participating in yield farming.
SPICYSWAP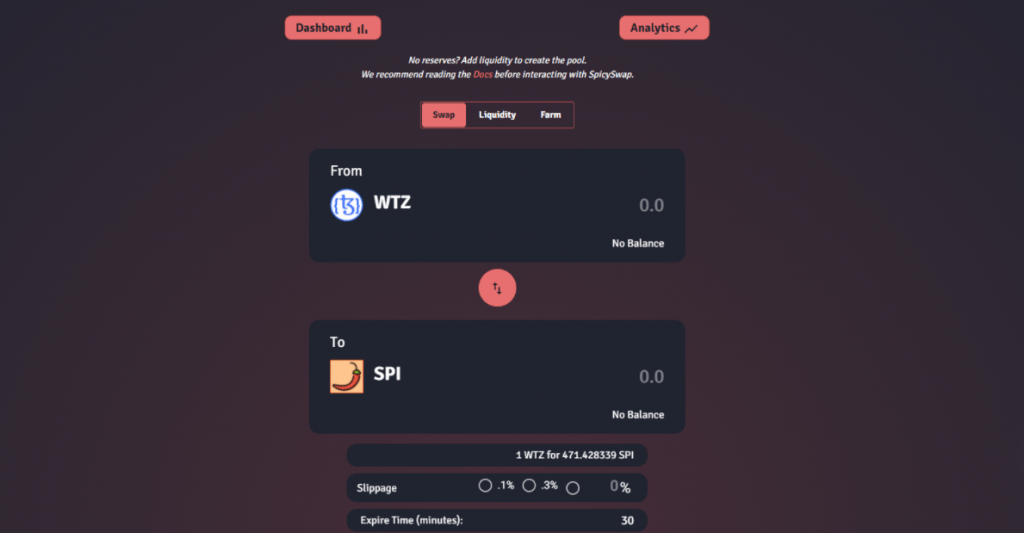 General
SpicySwap DEX, inspired by the Uniswap V2 general framework, was built by Genius Contracts and is governed by SalsaDAO ($sDAO). The SpicySwap team says that contracts were audited by a Tezos-focused development company and that they are planning to open code soon.
DEX
Spicyswap supports token-token swaps between arbitrary FA2 tokens. There are already 27 tokens available for trade. Each user will get the opportunity to add new arbitrary FA tokens and create trading pairs. This DEX doesn't support native Tezos; the WTZ derivative can be used instead.
Liquidity providers earn a flat 0.2% fee on every trade. The trade fee is 1/2 of the liquidity provider's fee. So, the overall fee structure is 0.2% to LPs, 0.1% to SPI Farmers, making a total of 0.3%. These fee rates will be governed by sDAO.
Using the Uniswap V2 architecture as inspiration, SpicySwap will allow for Flash Swaps and Flash Loans, according to developers' plans.
Tokenomics
Spice (SPI) is the main token of the SpicySwap system with a max supply of 100,000,000. sDAO will be the governance token of SpicySwap.
SPI tokens provide users with the opportunity to farm LP tokens in any trading pair on SpicySwap. Each liquidity pool on SpicySwap will have a separate Spice Farm. To enable SPI LP farming, users should provide liquidity to the SPI-wXTZ pair.
Users can buy SPI on SpicySwap or QuipuSwap.
In Addition
Within the decentralized finance ecosystem on Tezos, there are several other solutions that offer token swaps. Among them:
FlameDEX (updated November 11, 2021): The decentralized exchange developed by the team of the yield farming platform Spacefarm. FLAME tokens, which are at the core of the Spacefarm governance mechanism, are available for trading on Quipuswap. DEX already launched and about 20 tokens including TEZ are available for trades.
Liquidity Baking DEX: Implicitly originated constant product market-making (CPMM) contract used for liquidity baking. This protocol does not have its own frontend interface, and interaction with it is possible through the tzkt.io blockchain explorer. The contract allows swaps in the XTZ / tzBTC pair. Its balance contains more than 1.3 million locked ꜩ.
SEXP: The decentralized exchange for trading synthetic assets built on Tezos. The developers have already launched binary options with audited contracts on the testnet. This DEX has its own SEXP token. The launch of swaps and options on the mainnet is scheduled for Q4 2021.

Dexter: The first popular DEX built on the Tezos blockchain. The exchange allowed XTZ and Tezos FA1.2 token swaps, providing liquidity to earn a share of exchange fees. The protocol was built on open-source software released under the GPL license. However, Dexter is no longer maintained by CamlCase, the developers of this protocol.
Conclusions
More and more new AMM protocols are appearing in the Tezos ecosystem, offering new tools and providing farming programs to their users. Moreover, the already existing DEX protocols have many development plans in place, and by the end of the year, we can expect to see completely new functions on the platforms described in this article.