It's a great day for QuipuSwap and our community. Following the true principles of decentralization, we are happy to announce that QuipuSwap Governance will soon be launched. All community members who have supported us and worked with our DEX from the start will be rewarded with the fair distribution of our Governance token. In this article, you can find detailed information about the upcoming airdrop. Enjoy the read and don't forget to check your wallets.
You may find Tokenomics and detailed information about Governance in this article.
Token Airdrop Distribution:
3% of the total token supply (300 000 QUIPU) will be distributed among our community members in the following proportions:
5 QUIPU tokens per account that either exchanged tokens or provided liquidity at least once. A total number of accounts that interacted with the QuipuSwap is: 12736 ( 63 680 QUIPU).
Other tokens that left from 3% will be distributed by the following proportion:
25% to liquidity providers (59 080 QUIPU)
70% to traders (165 424 QUIPU)
5% to liquidity providers in the pools that were affected by the decimal exploit (11 816 QUIPU)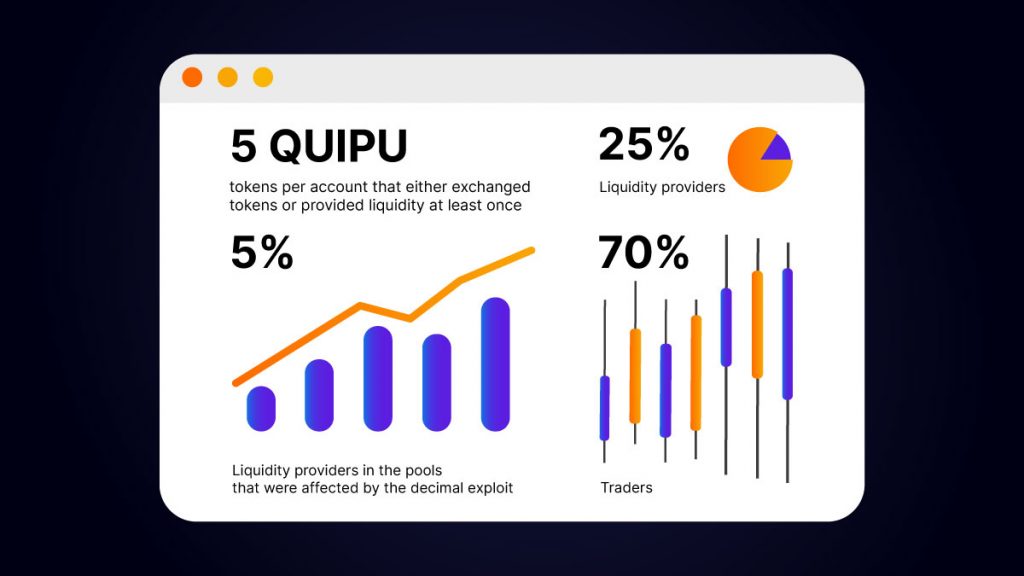 Distribution Workflow
The blockchain airdrop snapshot was conducted: 08.25.2021. We have analysed all data from 1 407 393 to 1 636 984 blocks.
The distribution model for liquidity providers
Liquidity providers are QuipuSwap's core supporters and they will receive 25% of the airdrop. In the formula, we counted how many QuipuSwap Liquidity Tokens (QLT) you had in your wallet from the QuipuSwap launch (v1.1-v1.3). Also, the liquidity volume of these tokens in comparison with a total liquidity volume (we took a snapshot of all QLT holders every 1000 blocks from the QuipuSwap launch to the time of the airdrop). In order to avoid a situation where top 1% users may receive 80% of airdrop we limited the total value Tezos in QLT by 30 000 XTZ from one user per a pool; the QLT above was calculated as 30 000XTZ.
Please note: we've only counted the QLT tokens that were stored in your wallet. If you haven't stored these tokens in your wallet, or staked them in other projects, they will not participate in the airdrop. We don't have the capabilities to track and count them in our distribution formula.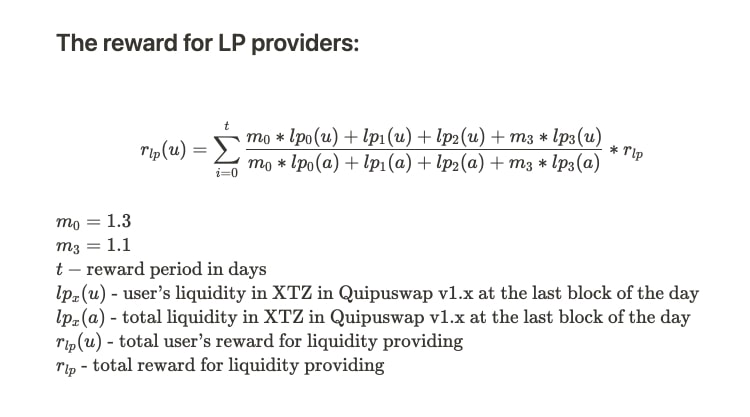 The distribution model for traders
70% of the airdrop distribution will be sent to QuipuSwap traders. The number of tokens will be related to the intensity of trade and the swapped amount for each use.
The distribution formula is: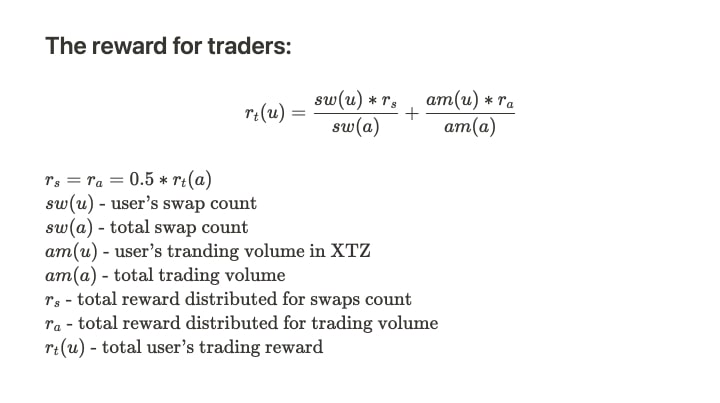 The distribution model for providers in pools affected by the decimal exploit:
We think it's fair to provide some compensation to community members who have lost some of their liquidity in the affected pools. We've decided to give 5% of the total airdrop to these users. The formula is: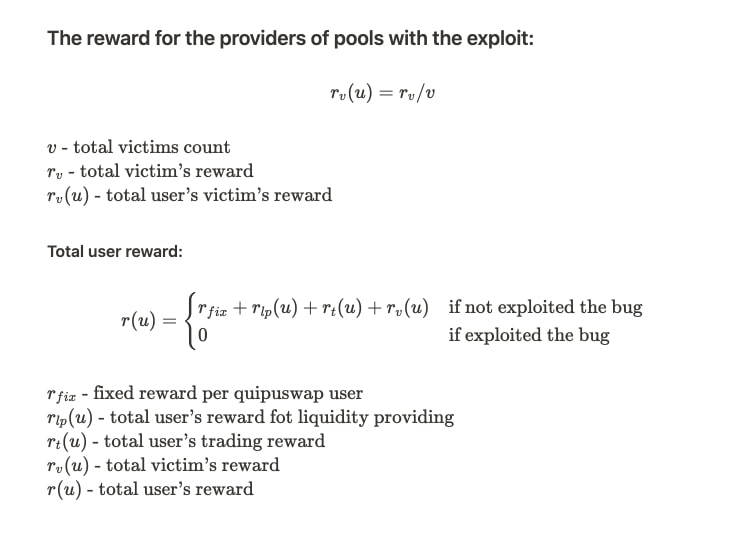 Who will be blocked from airdrop participation?
We have removed all contract addresses from the airdrop participation.
The addresses that were detected in decimal exploit usage will be removed from the airdrop list. We know that some users were just testing this vulnerability, so we've increased the limit to 10 attempts. This means that if your address was detected in decimal exploit usage more than 10 times, it will be removed from our airdrop list. Just accept this.
What is a total token supply after the airdrop:
By our token distribution model, 71% tokens were distributed among the community members (300 000QUIPU), and 29% tokens were distributed in other funds:
– 13.5% team funds
– 10% future partnerships
– 5% grant/dev program
– 0.5% public testing
The total token supply after the airdrop is 422535.2 QUIPU.
How to receive QUIPU?
We already sent them to your wallet. Nothing is needed from your side.
I don't see QUIPU tokens in the wallet. What should I do?

Some wallets don't show the received FA2 tokens. To see your QUIPU tokens, you should export your account to the Temple wallet. In the next step, you need to add the token address manually by choosing the Manage Tab and clicking "Add Token".
Token Address: KT193D4vozYnhGJQVtw7CoxxqphqUEEwK6Vb
Token Type: FA2
Don't change other fields. After confirmation, you will see tokens in your wallet Assets tab.
What are your next steps?
The airdrop is the first step in launching the Governance section on QuipuSwap. The QUIPU token will be used not only in Governance but also in other activities, for example, in our liquidity mining programs. After receiving your share of the airdrop, you may decide what to do next: either use them in future activities or sell them on the market. We hope that you will make a wise choice. Don't forget to subscribe on our updates.