Bear in mind that you might not see too many differences just yet. Our efforts throughout all these months have been focused on creating a new underlying infrastructure for our DEX to make it more robust, flexible, and suitable for new technological solutions.
The new DEX comes with new LP contracts. Make sure to move your existing liquidity to the new DEX 2.0 contracts. We will tell you the simplest way to do this below.
In this article, we have summed up the changes for your convenience. Please read carefully!
Interface Changes
Check out the new Liquidity page UI. It now provides easy access to the stats of all Check out the new Liquidity page UI. It now provides easy access to stats for all existing pools, including the old contract pools. Pool details were streamlined, and pie charts of pool reserves were added to all pool pages. Enhanced search options enable you to browse through pools with more ease, using the new filter tools.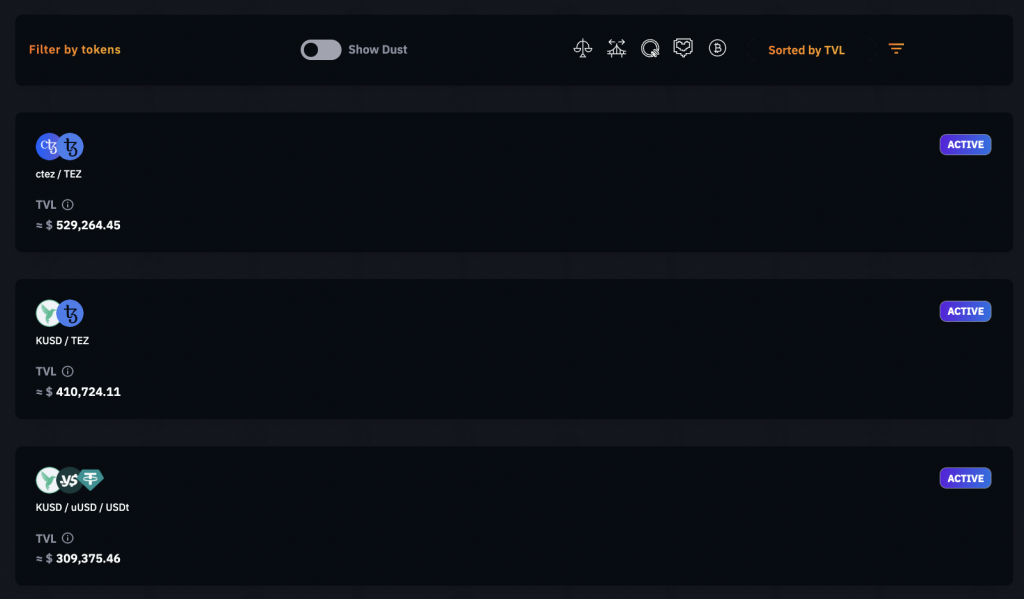 The process of creating a new pool was also changed; we have added a dedicated Create New Pool page. You can now create volatile token pools and stableswap pools on the same page following a simplified two-step procedure.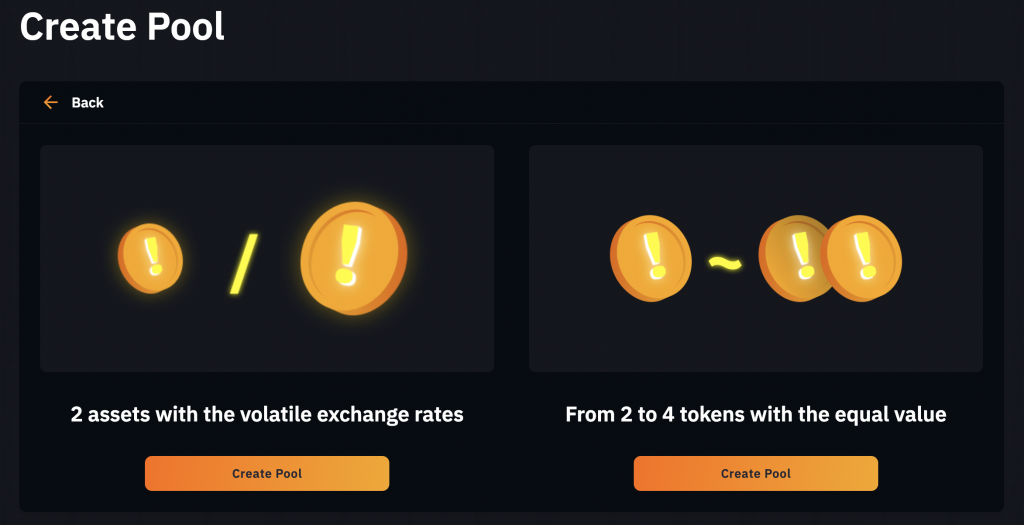 "Hot pool" is a new tag that helps us feature pools that we believe have potential and are worthy of liquidity influx. As a rule, these pools are lucrative for stakers and are likely to receive their own farms.

One-Click Migration
QuipuSwap pools will have to migrate to the new 2.0 contracts. This new feature allows users to migrate liquidity from the old contracts to the new ones in a single click.
It is important to transfer liquidity to the latest version as the new features, as they are released, will only work for the new pool contracts. For example, only the new pool contracts will be able to participate in future farming programs, etc.
Fees
As many of you probably know, QuipuSwap is no longer subsidized by the Tezos Foundation. We have to make a living for ourselves. As a result of this, and due to some other reasons (like the announced QUIPU burning plan), we have introduced a new transaction fee scheme.
The overall fee will be increased to 0.35% on each transaction (previously 0.3%).
It will be distributed in the following manner: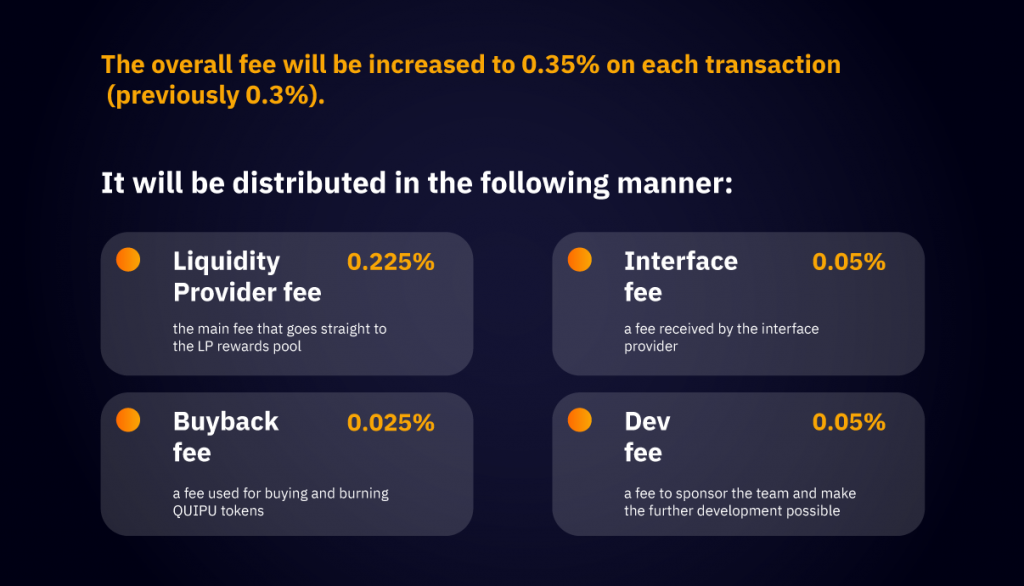 Liquidity Provider fee (0.225%) – the main fee that goes straight to the LP rewards pool.
Interface fee (0.05%) – a fee received by the interface provider.
Buyback fee (0.025%) – a fee used for buying and burning QUIPU tokens.
Dev fee (0.05%) – a fee to sponsor the team and make further development possible.
The team will also generate extra revenue by keeping 50% of the baker rewards.
Flash Loans
Yes, we did it! This new QuipuSwap feature, long-awaited by DeFi mavericks, allows you to instantly borrow the sum you require under the sole condition of repaying the debt within the same block. There is no dedicated interface for this feature; it is for code-savvy traders only.
The debt can be repaid with the corresponding pair tokens, and you will have to pay no extra fees other than transaction and swap fees. If the loan cannot be repaid within the same block, the transaction will simply be denied.
Learn more about flash loans use cases here. QuipuSwap flash loan documentation can be found here.
Baker Banning Exploit Fixed
In the previous versions of the DEX, we encountered an issue where it was way too easy for a small dedicated group to collude and ban a competing baker from a pool. This was possible due to the very low participation of stakers in the voting activities. To curtail this issue, we have implemented a manual plug on the vetoing process. In the new version, the vetoing power will belong to the team only. We will react to users' reports and make decisions.
Also, voting for a baker is now obligatory for all liquidity providers. We hope this will increase user participation and render the liquidity pools more secure. Voting is free and safe, and shares will not be locked on voting.
New farms (integrating youves code)
The new farms are:
XTZ/USDT
XTZ/kUSD
XTZ/QUIPU
USDT/tzBTC
All new farms have a vesting period of 90 days, as well as a high APR.
As with all brand-new farms, the APY is best when you deposit early. You should consider being among the first to participate.
We have learned some new tricks from our friends at youves and have tweaked their implementation for the benefit of our platform.
Rewards vesting – an option that will allow you to withdraw your full deposit before the farm's lock period is over but will cause you to lose a certain % of the accumulated reward, which is then redistributed among the remaining pool members.
NB: You may still increase your existing stake directly, which will average out the vesting period.
We're hoping for your active testing of the updated QuipuSwap DEX 2.0 and waiting for your feedback on our social media channels on Telegram and Discord.