Last month QuipuSwap was added to the De.Fi – the platform allows users to manage their portfolio, check actual balances, locked assets, unclaimed rewards, and more.

In this guide, we'll explain how to use De.Fi to manage your Tezos portfolio and why it's a sufficient step forward for the whole Tezos DeFi.
It is better to connect your wallet to start interacting with the de.fi platform and use all the available tools. Recently developers added Tezos wallets and Beacon chain support alongside other chains wallets. So, let's start from this point and explore opportunities opening for us.
Manage Portfolio
Click the Connect Wallet button (screenshot 1), choose Tezos from the list of chains, and select Temple Wallet.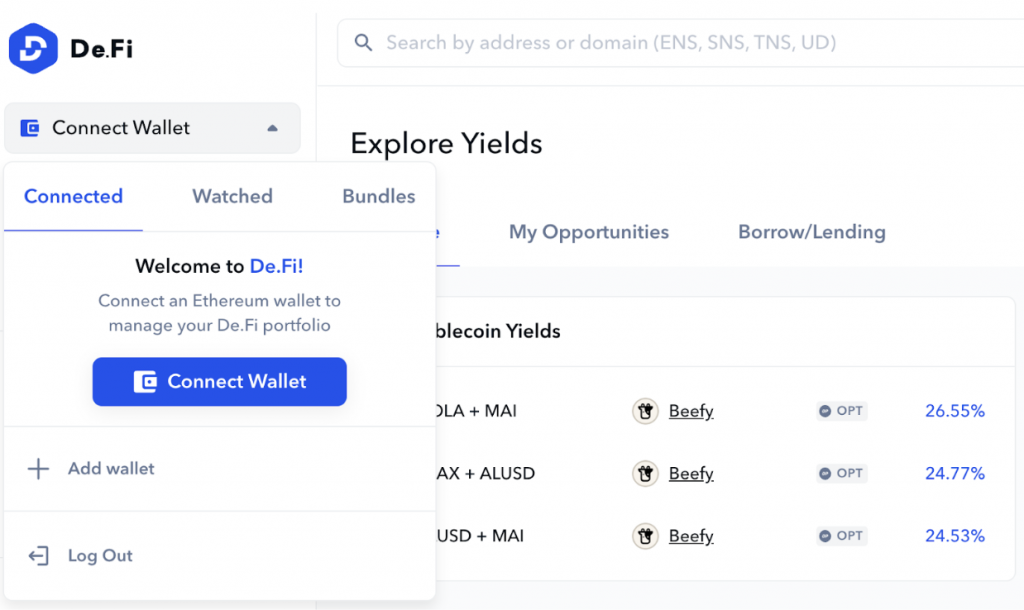 After you connect a wallet, you can go to the Home page and see your address stats (screenshot 1). Among them:
Your actual balance price;
Price of your deposited assets;
Cost of claimable rewards;
Lending assets value;
Borrowed assets value.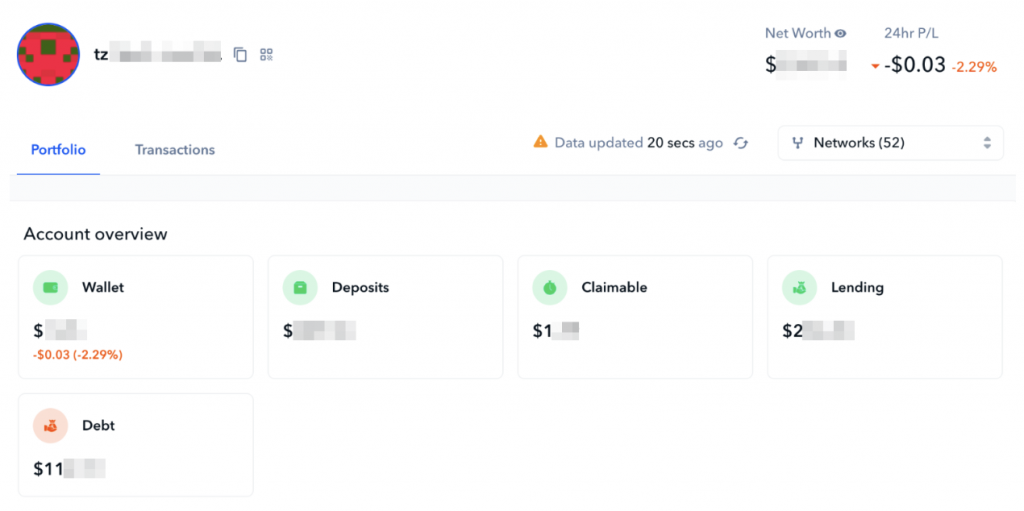 Each chapter from the Account Overview section can be opened to show you detailed information.
Below you will find your general balance across all available for De.Fi Tezos apps, and segmented value on each of these dApps (screenshot 3).

You can see the extended information about your locked assets on the dApps by clicking on the exact application (screenshot 4).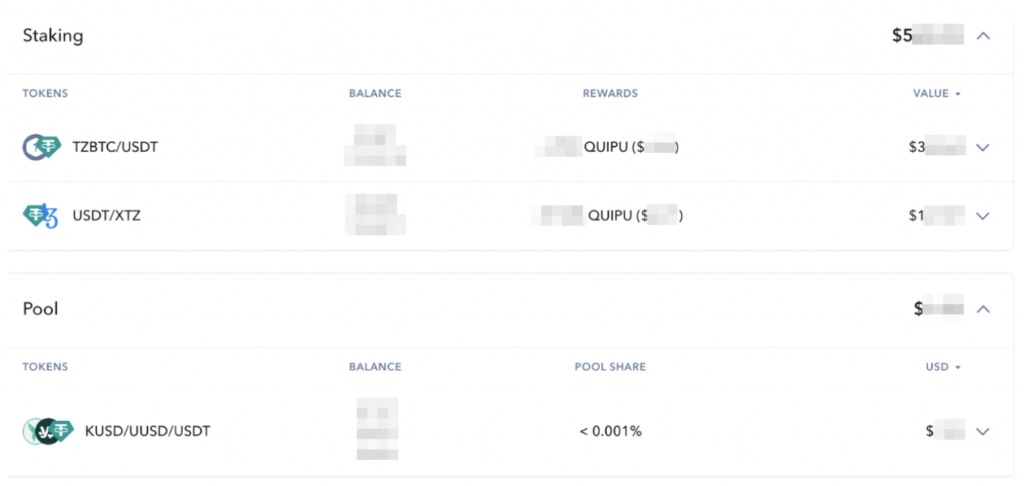 The detailed information of each position will show you such things as balances in tokens and their value, current APY/APR, the overall value of the liquidity pool, and your share in percentages.
Investment section
If you open the Explore Yields page from the Investment section on the left website menu, you will see options for making your assets work. Select "Tezos" in the networks menu, and after that, you can select one of the six Tezos dApps available on De.Fi (screenshot 5).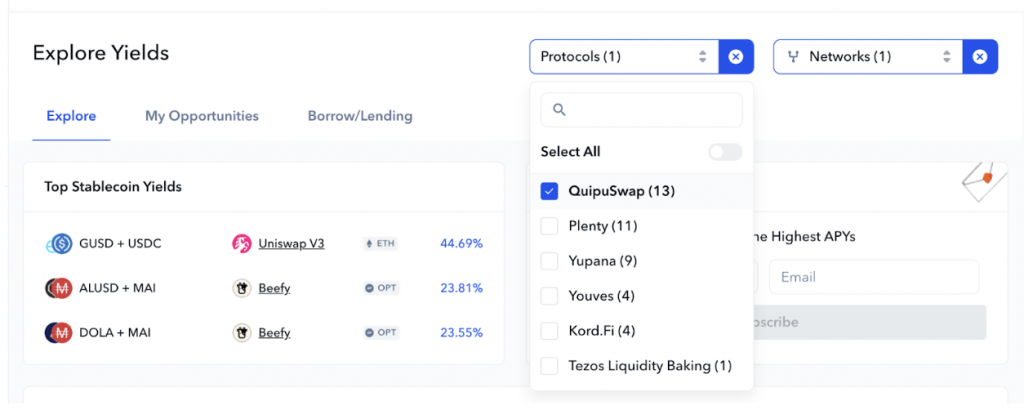 Let's start with QuipuSwap. Filtres help to find preferred pools and earning options.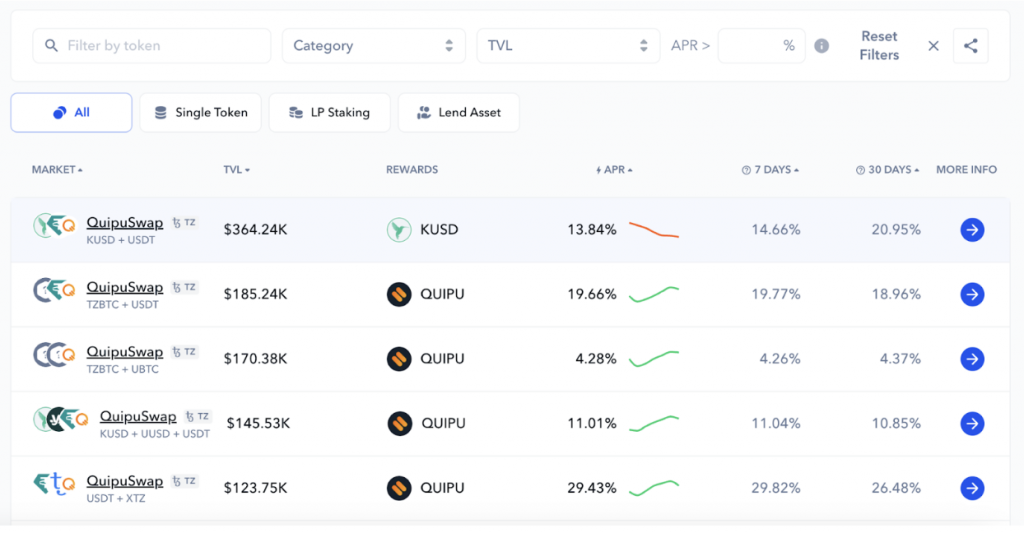 You can explore all the pools with active farming programs on the chosen protocol in this list (screenshot 6). In addition to the assets in a pool and the reward token, you can see APR (average, for one week or 30 days). Click more on one of the program's tile.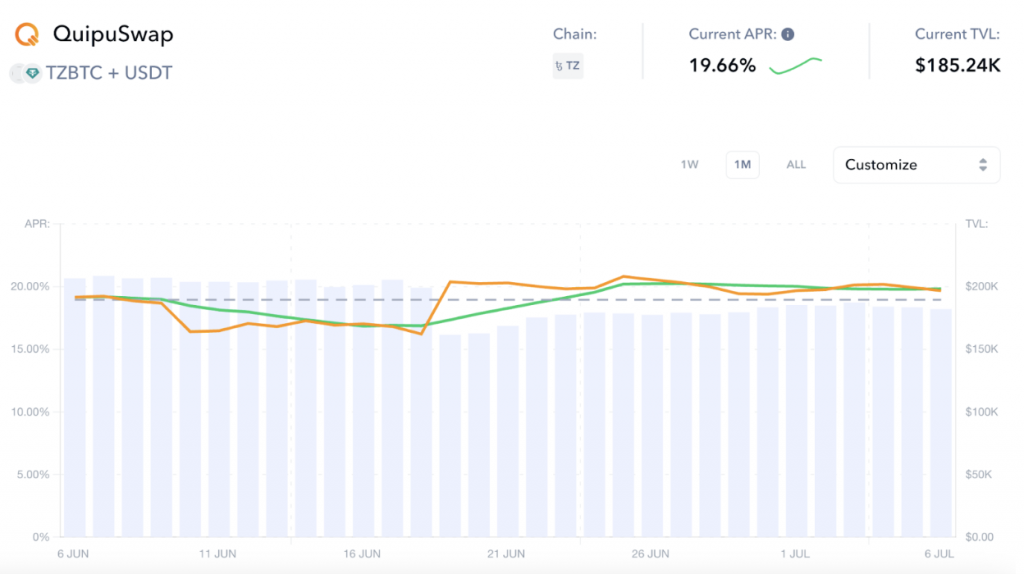 On the program's page, you can check the chart, which contains data about TVL and APR and their changes in the past (screenshot 7).

Deposit and Lending pages show you the information we already considered in the first part of this guide.
Conclusions
De.fi is very new and helpful for the Tezos ecosystem, which simplifies managing your portfolios, working with balances, and calculating stats. As you may see, this platform hasn't allowed us to invest or claim assets through its interface, but it is still beneficial from the analytical point of view, and crypto life is easier by seeing many of your assets and positions in one place.

In addition, De.Fi will help you to find all your old investments you forgot. So, you may be surprised. 😅
—
Follow our social media to learn more about the Tezos ecosystem's development and not miss important updates and news: Telegram Community, Discord Community, QuipuSwap Twitter.