We're happy to share with you the great news about the new Coinflip game launched on the QuipuSwap platform. This overview explains how it works, how to play, and how to earn rewards playing Coinflip.
Coinflip is a new gaming mechanic with random elements, launched to create an additional utility case for the QUIPU token, as well as for users' entertainment.
How it works
The game is pretty straightforward, just like a normal coin flip. Users choose one of two sides of a coin, make a bid in available tokens, and try their luck.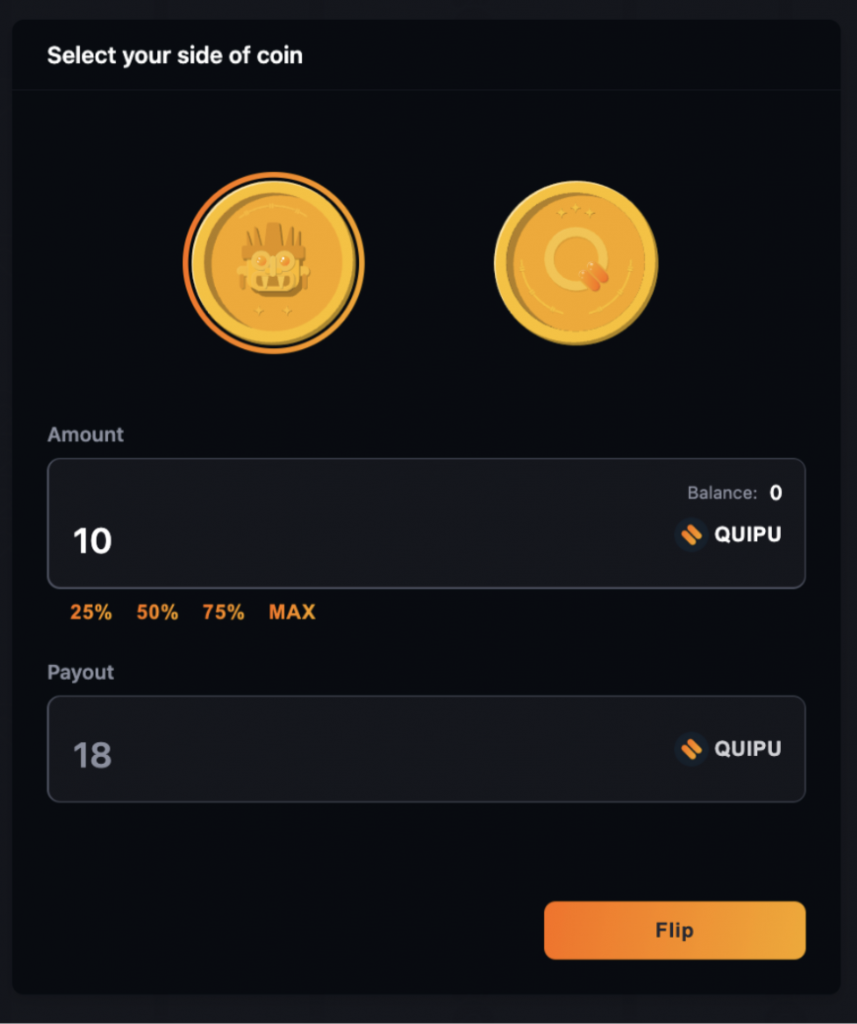 Currently, users can choose between QUIPU and TEZ to start the game. If the user wins, they will get almost double their bid. The rewards are calculated as bid size * payout coefficient, which is currently equal to x1.94.
If the user loses, their bet will be sent to the Rewards pool. This pool is needed for rewarding winners.

Pay attention: Users can't make a bid that is greater than 2% of the rewards pool.
How to play?
Pick a token (TEZ or QUIPU);
Submit your bet and click "Flip," confirming the transaction in your wallet;
Wait for a few blocks (3 minutes on average) for the game results;
If you win, you will get almost double your bid.
If you lose – your bid is gone, and your tokens move to the Rewards pool.
Your winnings will be sent automatically.
What is under the hood of Coinflip?
You may like to know a few things to understand Coinflip deeply. The first one is about the random mechanic and how it works. The flip's result is determined by an algorithm that derives a random number from the block's hash that includes the bidder's transaction.
The second one applies to the rewards pool. All lost bets of users and tokens that are added by the project team fall into this pool.
And last but not least is about security. To prevent DDoS attacks on Coin Flip, we set marginally higher fees to play the game than the average transaction cost. Now it's around 0.01 TEZ.
We're waiting for your participation, feedback, and results in Coinflip!
Follow us on social media to stay up to date with all future news and updates.

Telegram | Twitter | Discord