The last five months were both exciting and challenging at the same time. We launched an open-source QuipuSwap AMM, made several updates to the DEX, and created a trading analytics section. Now we are ready to take the second step towards true decentralization by launching the QuipuSwap governance token.
Token Details:
Token use cases:
QUIPU tokens will be used in QuipuSwap governance and as a means of payment for future additional QuipuSwap services.
Token distribution model:
QUIPU tokens will be distributed as follows:
– 71% community incentives
– 13.5% team funds
– 10% future partnerships
– 5% grant/dev program
– 0.5% public testing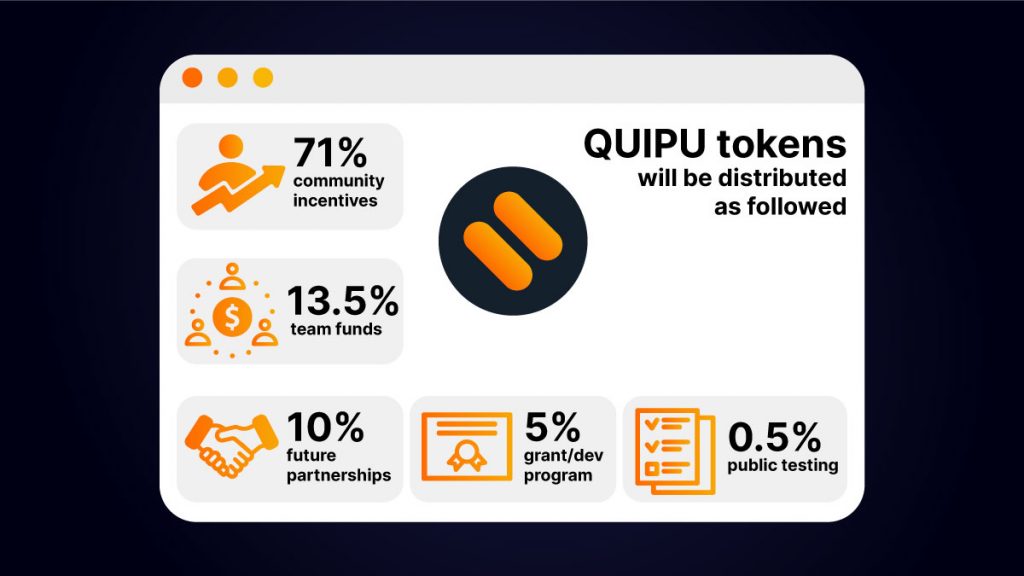 A more detailed description of each direction:
Community incentives
We consider the community to be the most valuable part of the QuipuSwap ecosystem. We plan to launch many activities to engage and reward the most active community members. The first distribution of QUIPU tokens was conducted via the airdrop. Other tokens may be obtained via farming and earned on other DeFi platforms.
Team fund
To protect the further development of QuipuSwap against financial risk, we have created a team fund. Tokens from this fund will be used for development needs.
Future partnerships
We have ambitious plans to attract new people to the Tezos ecosystem. One of our plans is to collaborate with big projects from other ecosystems. We have reserved 10% of the token supply for these activities. These tokens will be used to engage users from other projects to work with QuipuSwap and Tezos.
Grants/Dev program
We are proud that some community members have developed open-source tools for QuipuSwap and we think that these activities should be rewarded. We have therefore created a Dev Fund. Tokens from this fund will be used as grants for teams that develop solutions around the QuipuSwap ecosystem.
Public testing
Security is crucial for DeFi projects. We understand this and want to motivate developers to test our system for potential vulnerabilities. In later articles, we will introduce our public testing/bug bounty program to the community.
Token supply:
We plan to mint 10 000 000 QUIPU. The distribution was initially planned to be completed within 4 years but the community can manage this timescale via the governance mechanics. There are 5 funds with different proportions of the total supply.
QUIPU has a dynamic model of distribution which means that if the tokens are minted for one fund, the others will also receive a proportional allocation.
For example, if 10 tokens are minted for "future partnership," then another 5 tokens are minted for "grant/dev program", 71 tokens are minted for "community incentives", 13.5 tokens are minted for the "team," and 0.5 tokens are minted for "testing".
QUIPU token minting starts with the airdrop. The next step of obtaining tokens will be to launch a liquidity mining program for QUIPU holders. During the mining process, new tokens will be issued proportionally to all funds.
Governance
The detailed governance model will be described in later publications. We are currently creating infrastructure and documentation for the smooth launch of QuipuSwap Governance. Stay tuned and keep an eye out for our updates.