This article consists of two parts. In the first part, we provide an overall review of what's behind the move-to-earn concept, what directions and features it may contain, and which projects are presented in this market. In the second part, we share the story of one of the brightest representatives of the move to earn niche, STEPN, and examine the causes of its price decline in the last month. Let's start another dive into the diverse world of blockchain technologies and their directions.
Part I: What's Behind the Move-to-Earn Concept?
Move to earn is a new addition to the crypto Game-Fi direction that has gained popularity over the last year. Its main distinguishing feature is the tokenization of sports and a healthy lifestyle. In one way or another, move-to-earn apps encourage users to keep physically active by rewarding them with tokens and other benefits.
Walk and earn, crypto and health and fitness-Fi (in which the "fi" stands for finance) are terms for the move2earn concept. The idea of fitness apps proved its incredible success back in 2009 with the launch of Fitbit, which has 31 million supporters. The emergence and evolution of decentralized applications made it possible to add earning opportunities to fitness applications.
Move-to-earn apps combine staking, NFT, and fitness tracking features. A user who installs the application receives rewards for physical activity, which includes walking, training, jogging, bike riding, or anything else. Moreover, these applications often work with augmented and virtual reality, making the process more gamified and attractive. In fact, such applications follow in the footsteps of the play-to-earn (P2E) model adopted by metaverse and NFT coins.
Such Fit-Fi apps work with physical sensors and geolocation data, which are processed in an off-chain environment. In turn, the blockchain is entrusted with encryption, data reliability, and tokenomics. Tokens in such applications often have internal utility scenarios. Firstly, it deepens user interaction within the platform, and secondly, it creates value for coins, making them more than just wrappers.
With the proper approach, the sport + crypto combination has become an obvious winner. Coinmarketcap currently includes about 20 projects from the move-to-earn direction, each of which has its own unique game mechanics, physical engagements, and metrics. Below we describe the most popular move-to-earn (or Fit-Fi) projects and show you the range of applications and possible features that may be used in these apps.
Genre Representatives
For a full understanding of the features and opportunities provided to users by Fit-Fi apps, let's look at the most popular projects.
The Genopets (GENE) project is considered the first move-to-earn NFT game in the world. Built on Solana, Genopets combines users' step data with P2E mechanics, rewarding them for the distance traveled. In addition, this app allows users to connect their Fitbit (another popular fitness app) accounts and earn GENE tokens. Earning GENE, users can buy NFT monsters called Genopets and improve their characteristics and stats to change earning rates.
Dotmoovs (MOOV) is a peer-to-peer sports competition platform focused on freestyle soccer. It is an application that allows different teams to play soccer with each other. In addition, Dotmoovs also includes various social-fi and metaverse sports games. Recently, dance battles have appeared on the platform, which indicates the company's plans to gain a foothold in this direction.
Step.app (STEP) offers daily crypto rewards for walking. Launched in January 2022, the mobile app is available for users on iOS and Android devices. Users are rewarded in Binance Coin (BNB), and these rewards are generated from the transaction fees the platform collects from STEP trading. The maximum amount users can receive in a single day is $10, which can be earned by taking 30,000 steps.
In addition to the widely used move-to-earn models, this direction may include training applications, where communication between coach and client occurs through smart contracts and blockchain. This also applies to all payments and rewards, creating an open and transparent peer-to-peer environment for fitness fans.
But let's return to the most famous representative of the move-to-earn niche and finally talk about STEPN.
Part ll: STEPN
The developers describe the project as a Web3 lifestyle app with Social-Fi and Game-Fi elements. To start the game, every user must acquire in-game sneakers in the form of an NFT token. The sneakers allow them to earn a GST token, depending on its parameters, rarity, and level. In addition to buying sneakers on the marketplace, users may rent them from other people. In this case, the rewards for walking are accrued in the proportion of 30% and 70% in favor of the owner.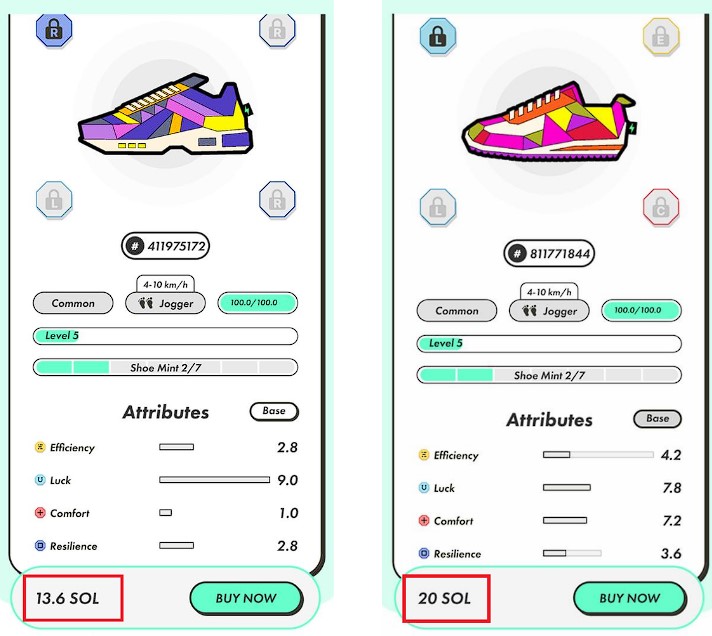 Different sneakers have different prices and stats that affect their earnings rates, maximum daily limits for earned tokens, and durability. Yes, you heard that right. Like in reality, STEPN sneakers wear out and require repair to earn GST (utility) tokens.
Tokens can also be used to buy various accelerators and improve the sneakers' performance. These are some of the fundamentals of the token's utility that help drive demand for both governing GMT and utility GST. Other mechanics that involve token burning include mystery boxes, customization, and buying slots.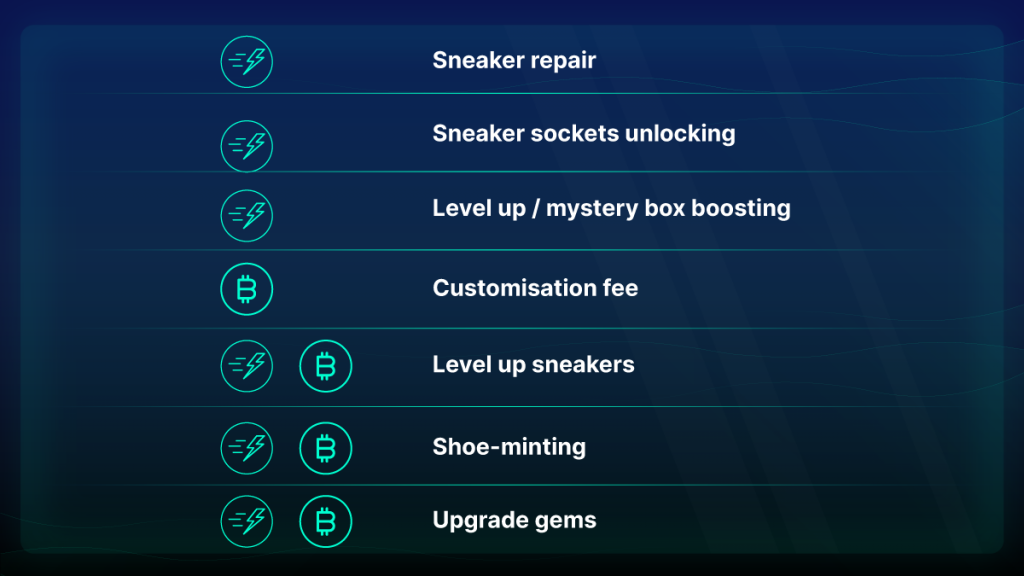 But one of the most attractive features of STEPN is the sneaker's "crossover" mechanics. Using two pairs of low-ranked NFTs, you can try your luck and get one pair of a higher-ranked sneaker. These NFTs have improved characteristics and can be sold on the marketplace for a significant price.
With its simple, clear, and attractive concept, STEPN's token, GMT, skyrocketed by around 3,600% in just a month. The project became a regular subject for discussion and reviews among crypto bloggers, and media regularly reported on its success. At its peak, the GMT token capitalization was over $2.4 billion, while the NFT tokens were sold for thousands of dollars.
What Happened To STEPN?
However, on May 27th, the project began to lose capitalization and some of its active users. One of the reasons for this was the developers' decision to restrict access for Chinese users. According to them, the application encountered problems from Chinese regulators.

In order to actively respond to relevant regulatory policies, STEPN will conduct an inventory of software users. If users in mainland China are found, STEPN will stop providing GPS to their accounts at 24:00 on July 15, 2022 (UTC+8) according to the terms of use and IP location services.

Official STEPN Twitter
Since a significant portion of the active players live in China, many of them began to execute the "panic sell" strategy and splashed thousands of NFT sneakers and project tokens into the market, which put huge pressure on their values. In addition to this, the NFT sneakers' values are denominated in SOL tokens, which is also experiencing a price decline.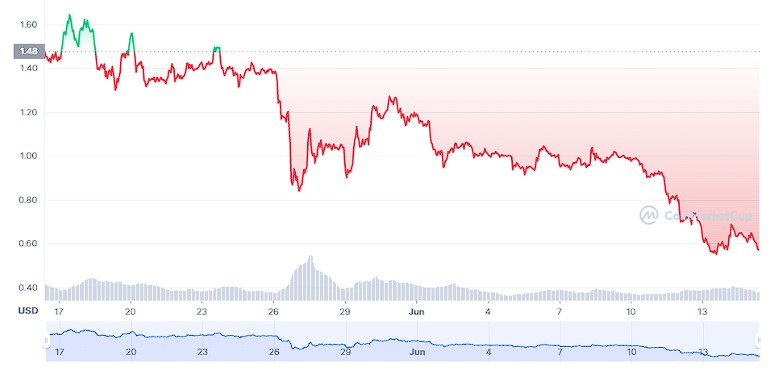 The price fall of STEPN's assets was the result of many reasons. Industry experts explain such market performance by a number of factors, including the overvaluation of the project, the Coinbase listing (which has historically caused massive sell-offs), and the inability of the burning mechanism to fuel the rally we saw at the beginning/middle of April.
In addition, these events took place in a rapidly declining crypto market, which was a consequence of the growing economic crisis due to the Russian invasion of Ukraine. This complex series of events discouraged investors from holding capital in high-risk assets such as cryptocurrencies.
Perhaps, in bull market conditions, the "Chinese case" of STEPN would have only resulted in a temporary decline in value since, in the first few days after the news broke, the project's coin price had successful correction attempts. These, however, were leveled by the continuing fall of the entire crypto market.
Conclusions
Like the move-to-earn model itself, STEPN is a new and ambitious addition to the Game-Fi direction that combines everything that modern users love: fitness, health, games, earnings, rarity, and more. There is no doubt that this niche will strengthen in conditions more favorable for the development of crypto projects. After all, even now, more and more move-to-earn (or "fitness-fi") applications are gaining popularity. There is a reason to believe that this trend will stay with us for a long time.

As for the decline in STEPN's value, there are no project pitfalls or developer faults to blame. It is still a great project worthy of attention and which has great potential for development. It's the result of the general situation in the market, which was preceded by a series of other negative events.