2021 is called the year of "dogs" for crypto, the main reason being the incredible growth of meme-inspired crypto assets, overcoming the habits of any financial market.
Known to many crypto enthusiasts, the Dogecoin (DOGE) and Shiba Inu (SHIB) coins have soared by thousands and tens of thousands of percent within a matter of months, thanks to the activity of communities and Elon Musk's attention. For example, from the beginning of 2021 to September 2021, DOGE increased by 136 times. From April 2021 to November 2021, SHIB increased by as much as 1600 times (from $0.00000005 to $0.00008).
Today we will talk about the features of meme-coins and try to understand how these coins with unlimited supply and no utility have achieved such popularity among the crypto community.
What Is a Meme Coin?
Meme coins are cryptocurrencies inspired by popular internet memes. Such coins show extremely high volatility, become famous thanks to communities and influencers, and could result in tens of thousands of percent in gains or equivalent losses.
An internet meme as a symbol of a coin and incredible volatility are just some of the features of meme coins. As a rule, they also have an extremely large, or even unlimited, supply. Hundreds of millions or billions of coins in circulation is the norm for meme coins. It allows them to maintain an extremely low price, and for a conditional $50, the buyer can receive hundreds of millions of coins.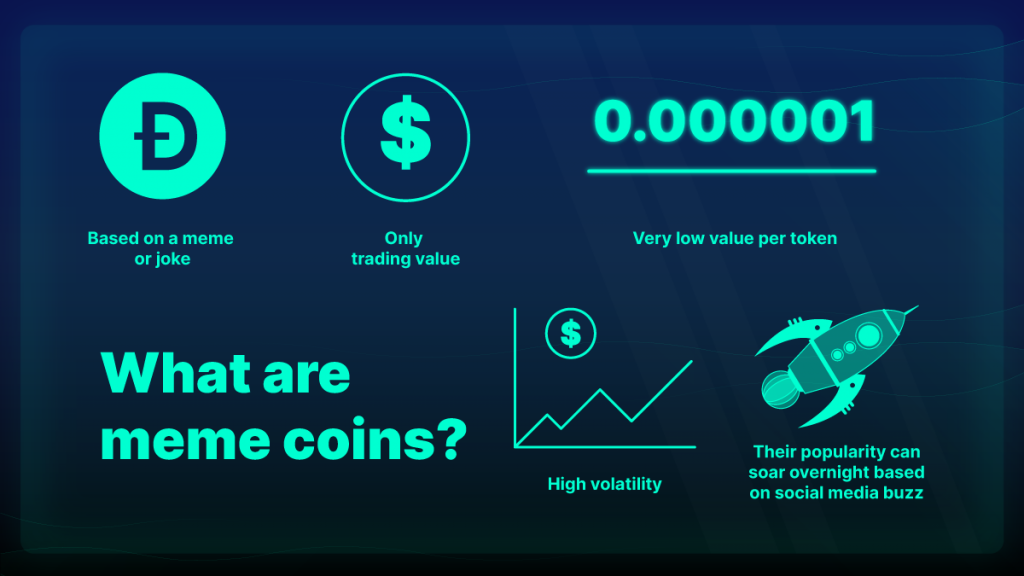 More interestingly, meme coins don't usually have any utility. They don't serve as "fuel" for the virtual machine, don't serve as a governance tool for the DEX mechanism, and often have no use cases at all other than buying or selling them on a third-party platform. However, such coins can skyrocket hundreds of times overnight, making their owners crypto millionaires.
To summarize, here are the characteristics that differentiate meme coins from traditional cryptocurrencies:
Meme coins aren't designed as utility tokens but solely as assets to be traded;
Meme coins are highly volatile and subject to extreme changes in value over very short periods;
Meme coins often have an uncapped supply (exceptions are, e.g., Shiba Inu);
Meme coins' values are driven by the current buzz surrounding the token;
Meme coins normally have a very low value per token.
The Meme Coin Boom
The idea behind the first meme coin, Dogecoin, was to mock classic cryptocurrencies like Bitcoin. Dogecoin was created back in 2013 based on a popular Shiba Inu meme.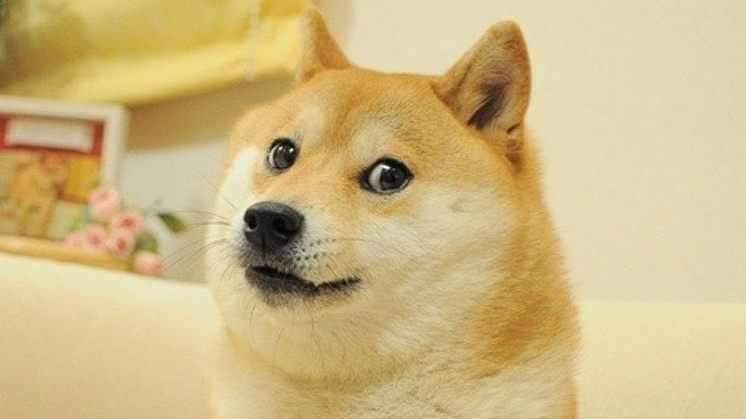 This new coin, which was created as a joke and did not have any real-world application, remained a "joke" until January 2021, when Reddit rediscovered it.
It's worth telling the story of how this began.

At the end of 2020, an interesting and funny story about the "meme stocks" of GameStop (GME) and AMC Entertainment (AMC) emerged, which was told by almost all the world's high-profile media. In just a few months, the investor community on Reddit began investing in GME stock, which had been on the decline for years.
It was like an act of war against the stock market whales who consistently "lowered" the value of GameStop shares and as a result made a lot of money. This confrontation between "simple guys" and "financial bigwigs" led to the Reddit community inflating the prices of these shares by 100 times within a few short months. Of course, the momentum then slowed down, regulators got involved, and one of the Reddit users remembered Dogecoin. You can imagine what happened to the DOGE price next.
In the same way that the GameStop frenzy was pitched as a battle-play of 'Wall Street versus The Little Guy', Dogecoin is being pitched as a battle-play against the well-established crypto giants like Bitcoin.

The deVere Group's CEO, Nigel Green
Then Elon Musk joined in on the trend. First, he tweeted about the coin, and then he even went a step further and promoted the meme-coin during a TV broadcast. Snoop Dogg and Mark Cuban joined Musk, traders discovered the "Dogecoin killer", SHIB, and the market went into a new crypto rally — the сrypto memes rally. Hundreds of meme-coins then appeared, the names of which were dedicated to dogs, and Elon Musk, who was the main ambassador of this movement and who regularly pumped various coins.
Within just a few months, Dogecoin broke into the top 10 crypto by capitalization, and by the end of 2021, Shiba Inu also joined. It is clear that such a phenomenal, sometimes thousand-fold, growth of assets has reached far beyond the crypto community and has played a significant role in crypto adoption.
Hundreds of thousands of people rushed to create crypto wallets in the hope of astronomical profits. The extremely low price of one coin played a significant role in this. This allowed people to buy millions of meme coins and wait until "my cumdogeinurocketcoin reaches $1 and I become a millionaire."
Although at the end of the meme rally, many of them became disillusioned with the crypto market as a magical wealth multiplier, a significant part remained and continued their study of the features and benefits of decentralized finance.
The Current Meme Coin Market
In May 2022, the hype around meme coins decreased significantly, and most of them experienced multiple falls in price, much more than the other, "stronger" coins. However, they fulfilled their main goal and proved the strength of the community, even in the fight against big business. In addition, they also brought a lot of new people and new liquidity to the crypto market.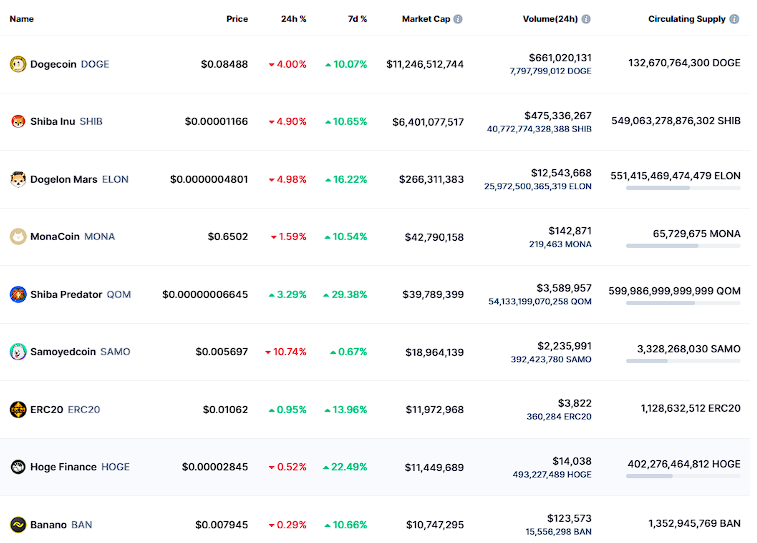 As is the case for big capital, many retail and institutional investors have also not bypassed Dogecoin. Thanks to this hype, previously uninteresting coins have become a means of payment in several large companies. For example, in addition to Tesla, the DOGE and SHIB meme coins can be used to make purchases at GameStop, Newegg, and Nordstrom. AMC also shared its plans to accept DOGE as a means of payment.
Tips for Trading Meme Coins
It's no secret that investing in cryptocurrencies is a high-risk strategy. Regarding the meme coin segment, it should be understood that it can be riskier than classic cryptocurrency investments. Meme coins are mostly community-driven assets that grow rapidly based on hype but which can fall just as rapidly.
However, when investing in such coins, you can and should use a reasonable approach. An investor should conduct a background check on the team. It would not be superfluous to familiarize yourself with the White Paper to have an idea about the project's tokenomics.
You should verify that liquidity pools are not held by burn addresses, so you don't end up investing in a project that will take your coins and run, also known as a rug pull. Check the token contract through blockchain explorers, analyze how the supply is distributed among the addresses, and check whether whales are holding huge token amounts. Also, beware of projects where more than 5% of the emission belongs to the developers.
An additional safeguard when deciding on an investment will be an audit from a reputable third-party company. Follow these tips and do your own research (DYOR) to minimize the risk of a loss.
Conclusions
It is likely that the time when meme-coins were just a lottery ticket to the club of get-rich-quick lucky people is behind us. While the volatility of such coins still provides a good opportunity for nimble traders, developers are now thinking about solving real problems with the help of meme coins.
The latest news from the meme-coin space speaks of a move towards utility. One example is the FLOKI token, which has been integrated into the multiverse and NFT marketplace, as well as into a crypto education platform. Perhaps a new vector in meme coin development (namely the creation of utility cases) will soon become the norm in this area. And then, in addition to the communities and influencers' activity, meme-coins will also gain popularity due to providing solutions to specific problems.