The diversity of projects in the Tezos ecosystem is truly impressive. Today we will talk about Tezos Domains – a distributed, open, and extensible naming system that uses the Tezos blockchain.
What Is a Domain Name System?
To understand how Tezos Domains works, let's look at classic naming systems such as DNS (Domain Name System). Cloudflare, one of the largest global cloud services providers and a provider of other web services, explains DNS as follows:
"The Domain Name System (DNS) is the phonebook of the Internet. Humans access information online through domain names, like nytimes.com or espn.com. Web browsers interact through Internet Protocol (IP) addresses. DNS translates domain names to IP addresses so browsers can load Internet resources.

Each device connected to the Internet has a unique IP address which other machines use to find the device. DNS servers eliminate the need for humans to memorize IP addresses such as 192.168.1.1 (in IPv4), or more complex newer alphanumeric IP addresses such as 2400:cb00:2048:1::c629:d7a2 (in IPv6)."
The functionality of Tezos Domains is similar to DNS: the name service's primary function is to translate a meaningful and user-friendly alias to a Tezos address and vice versa. Moreover, translation is globally consistent so that all blockchain users can see the converted address (domain) of the user.
How It Works
The protocol works with hierarchical names called domains.
Let's suppose that Alice bought a domain from the central registrar managing Tez and named her Tezos wallet address "alice.tez". If she sends some XTZ or other Tezos-built tokens to Bob, he will see 'alice.tez' in his wallet's received transactions because Alice has also set up a reverse record mapping her address back to "alice.tez"
The domain owner also has control over subdomains and can create child domains at any level, transferring them to third parties. For example, if Alice owns the "alice.tez" domain, she can create and configure "pay.alice.tez". Another use case could be a wallet that allows the domain owner to assign a third level domain for free (for example, "bob.temple.tez").
How to Get a Tezos Domain
Open the protocol interface on app.tezos.domains and connect your Tezos wallet. We recommend using Temple.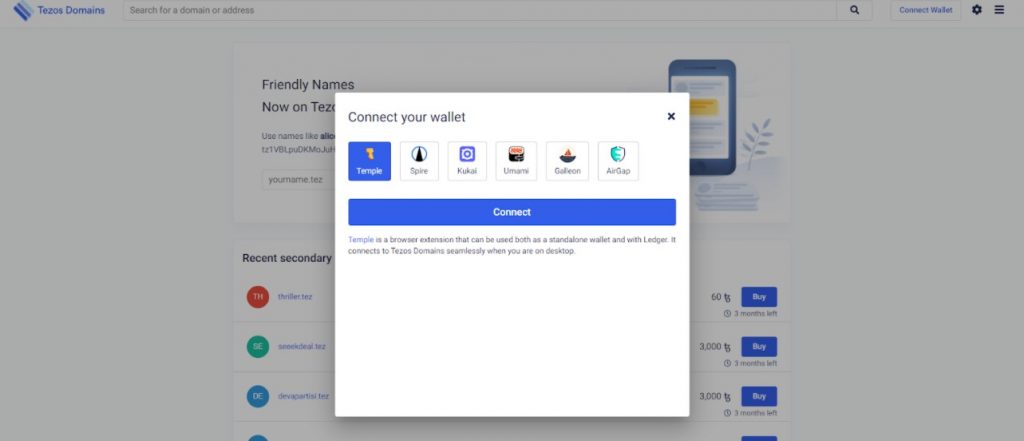 In the search bar, enter your desired domain.

Click "Register", confirm the operation in the wallet, and wait for the transaction to complete.
After that, specify the registration period and the wallet address to which the domain name will be assigned. Click "Register".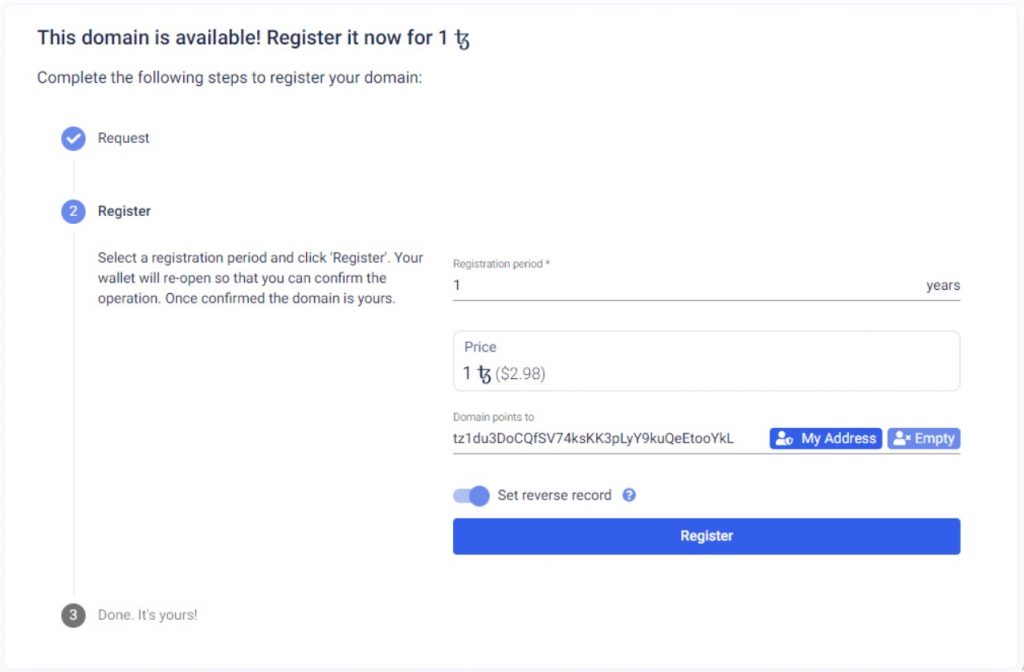 Done! The operation has been sent to the blockchain and you have now become the owner of the selected domain name.
If you do not want to assign the purchased domain to your Tezos address, deactivate the "Set reserve record" option. Remember that purchased Tezos Domains can be stored in your wallet as regular FA2 tokens and as regular NFTs that can be traded or transferred.
Please note: you can also assign an avatar to your address using the Gravatar service. More information and detailed instructions are available in the Tezos Domains documentation.
Publishing Websites
Tezos Domains lets you host a website using the Interplanetary File System. If you own a Tezos domain like yourname.tez, you can easily point it to IPFS content, and it will be available to the public under https://yourname.tez.page/. You can use a pinning service like Pinata to pin your content on IPFS for free.
To try this experimental feature, follow the instructions on the official Tezos Domains website.
How Much Does a Tezos Domain Cost?
The pricing of domains depends on their length:
Five-letter domains and longer cost 1 TEZ per year.
Four-letter domains cost 25 TEZ per year.
Three-letter domains cost 100 TEZ per year.
The initial auction period may drive the prices of popular domains up. The higher price will only be paid for the first year; renewals for subsequent years will have standard pricing.
Audit
Smart contracts and Tezos Domains' customer base are audited by the Quantstamp team. Quantstamp is a leading firm in the blockchain security space and has audited many high-profile projects in the past.
According to the audit results, no serious problems were found, and two low-severity issues were fixed.
Conclusions
As of March 2022, the number of names registered through Tezos Domains stands at 81,862 addresses. The most expensive lot at the domain name auction was sold for 3,500 TEZ, which at the time of writing is almost $10,500.

Among the Tezos team's immediate plans is the launch of Tezos Domains' DAO and the transition to a fully decentralized governance model in 2022.

To stay up to date with the latest project news and updates, subscribe to Tezos Domains' official Twitter.