It's happening!
It's been a wild journey, but here we are at last.
Temple mobile wallet is out on Android and it looks great!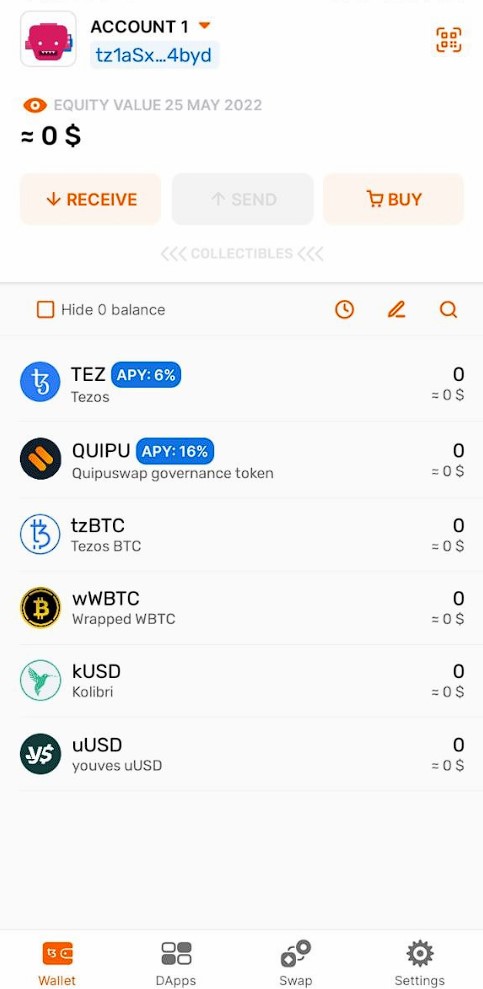 Of course, everything looks even better in dark mode.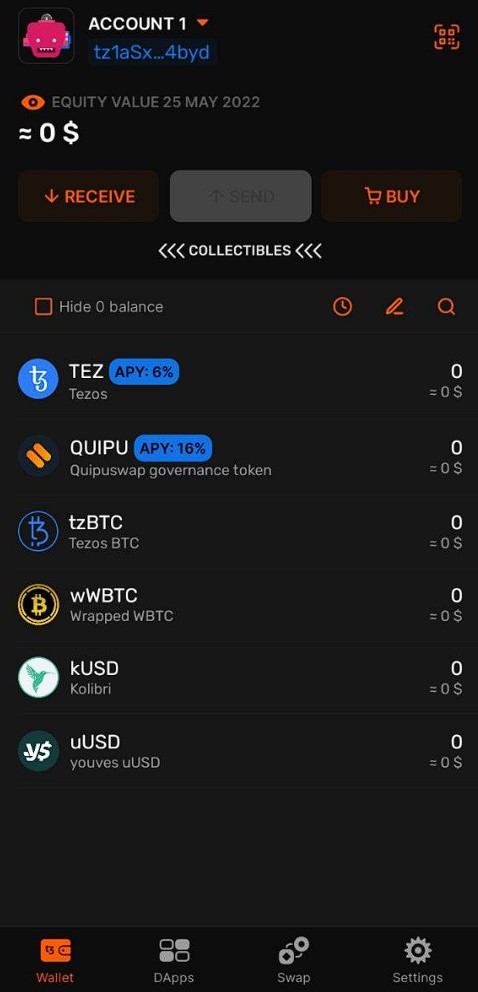 Can I start using it right now?
Temple wallet mobile is a free download on Play Market. You can start using it immediately.
Main features
Temple wallet mobile is a full-feature app, giving you every opportunity the desktop version gives. We have passed a rigorous audit and are happy to announce that Temple mobile now stands among the most robust mobile solutions on the market.
Send, receive and swap funds. Stake your TEZ. Interact with dApps, and store NFTs. Everything is at the tip of your fingers. We also support Tez domains.
The procedure for creating or restoring a wallet is pretty much the same for the mobile version. But if you are a desktop Temple user, you can also use your Temple extension to sync your mobile wallet with a few clicks and a QR scan.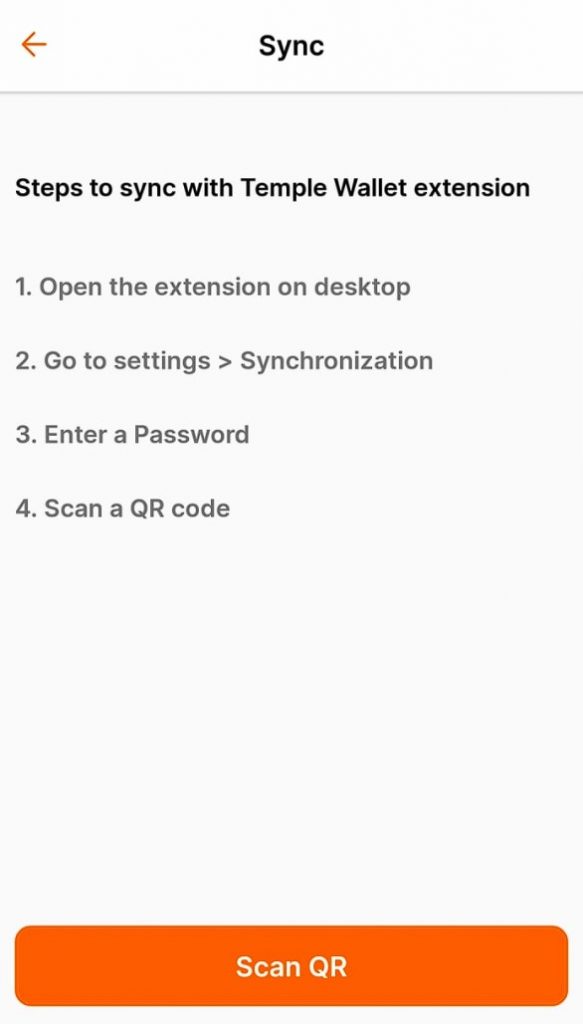 What's missing?
The mobile version does not have Ledger support.
Quick overview
The main screen contains your account name and address.
The big number at the center is the equivalent value of your entire Tezos portfolio.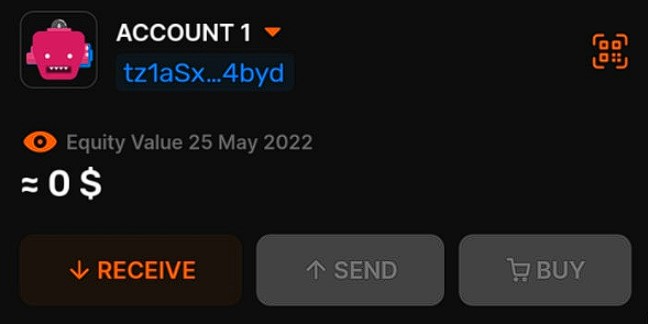 Main buttons
The main action buttons are the same as in the desktop version. You can see that the UI is also familiar-looking for the sake of continuity.
Send and Receive buttons take you to the corresponding screens where you can send funds to a different account or find the information needed to receive a transaction.
You can easily share your account address with a fellow Temple user by tapping the Receive button and letting him scan the QR code.
The buy button takes you to our third-party balance top-up options.
Exolix will allow you to replenish your Tezos balance using tokens from other blockchains. While Moonpay service provides an opportunity to directly buy Tezos with fiat.
The swap button takes you to the powerful Temple swap router which allows you to make a token swap without leaving your wallet. Our router will find the most lucrative exchange route among the available Tezos DEXes.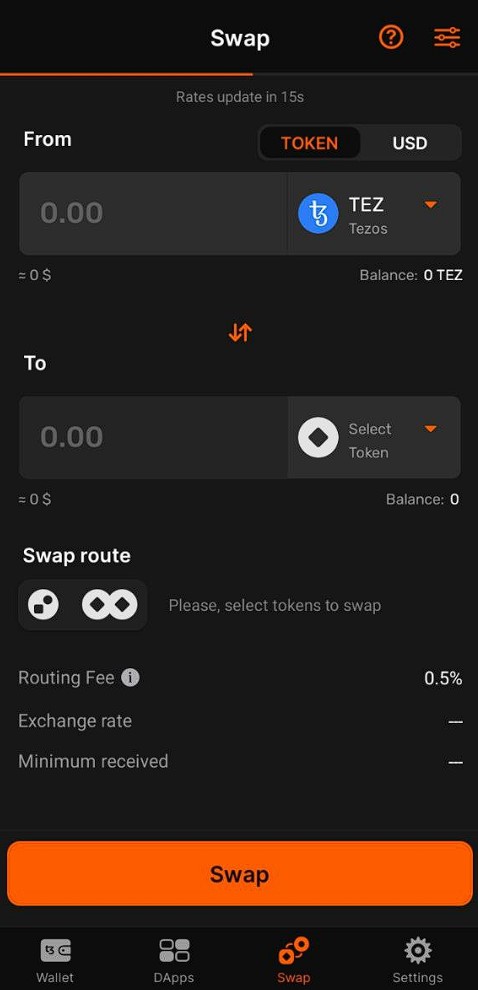 Read more on the Temple swap router here: https://story.madfish.solutions/temple-wallet-router-swap-optimization-best-exchange-prices/
Below you can see three tabs that will help you manage your assets.
Under the Assets tab, you can see the funds you own. Temple wallet supports 65+ Tezos tokens by default, tokens that are not yet supported by default can be manually added using the Manage screen.
The Collectibles tab is a separate screen for NFT enthusiasts.
The Activity button shows the full history of your past operations.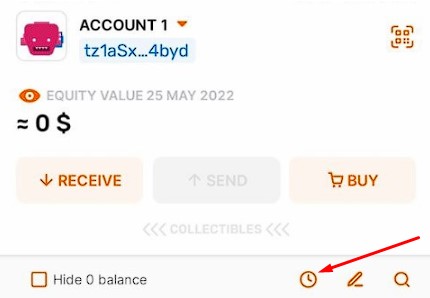 Last but not least, use the Robo icon to switch between accounts, access Settings, and visit the Dapps screen where all the main Tezos Dapps are aggregated.
Also note, that we integrated Liquidity Baking into our DApps screen. Now you can add liquidity to liquidity baking pools via a simplified procedure right from your wallet.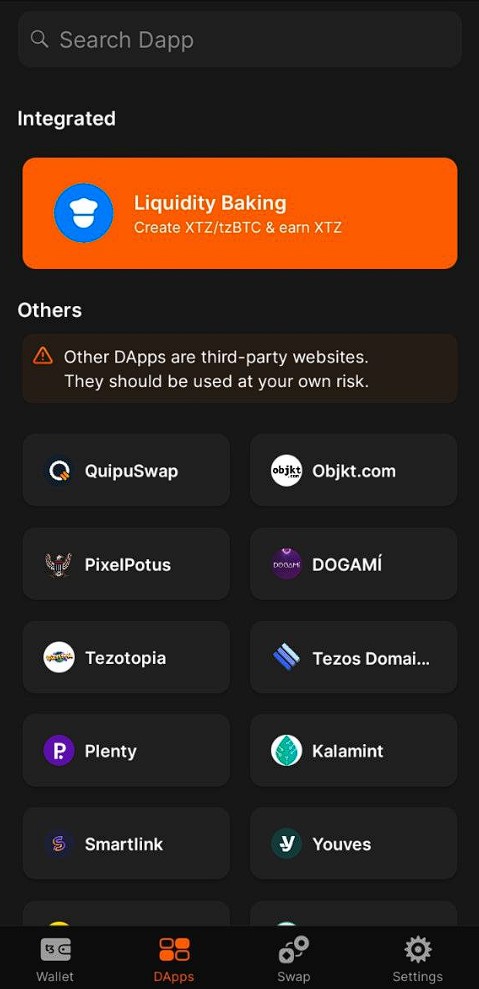 Read more about Liquidity Baking here:
https://madfish.crunch.help/temple-wallet/what-is-liqudity-baking-and-does-temple-support-it
When iOS?
Soon. Seriously.
The iOS app is ready but the Apple market takes significantly more time to vet an app. We expect Temple Mobile to appear in the App Store approximately in a month.
Help us improve
Temple mobile has gone through a lengthy testing process during the closed beta but why ever stop improving? Make sure to report every bug or glitch to the MadFish team via our media channels (Telegram, Discord). Feel free to send your suggestions on how we can make the UI even more convenient.